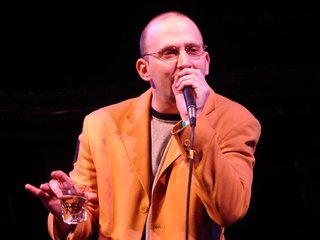 Shuli is a stand-up comic comedian who first appeared on the show in June 2003. When Stern moved to Sirius he was hired to be the hilarous on-air reporter for Howard 100 news, focusing on stories about The Wack Pack and filling in for not-so-funny Lisa G and even more boring Steve Langford.  As if that wasn't enough to keep him busy, he then began hosting his own show know as the "Miserable Men" show.  A show for us men to call in an bitch about anything we damn well pleased.  No topic off limits.
As devoted Howard Stern fans we have been entertained by Shuli's jokes, stories and reports since he joined the show.  Having seen him perform on the Killers of Comedy tour, he was one of the stand-out performances that didn't involve blue cheese or black dildos. 
We want to thank Shuli for letting us make this page.  If you want to learn more about him and/purchase is new comedy DVD 'Call of Shuli' go to his site JewGoneWild.com.  Like us you can also follow him on Twitter @ShalomShuli.